IAG takes great pride in its esteemed advisory board, which remains steadfastly committed to advancing the organization's mission of prioritizing safety and promoting awareness. Central to our values is the recognition of self-advocacy, and hence, we diligently strive to maintain a minimum representation of 50% self-advocates on the board, in balance with non self-advocate members. We wholeheartedly support and stand by all self-advocates as they actively pursue the noble goals of inclusion and equality.
Sarah O'Kelley, Ph.D
Sarah O'Kelley, Ph.D. is an Associate Professor working within the UAB Civitan-Sparks Clinics where she is involved in psychology and interdisciplinary clinical training, research, and community partnerships throughout the state focused on individuals with Autism Spectrum Disorder (ASD) and related disabilities.
Dr. O'Kelley has been involved in research and clinical activities with individuals with ASD and their families for over 20 years.


She was raised in the Birmingham area and received her bachelor's degree in Psychology and masters and doctoral degrees in Clinical Child Psychology at The University of Alabama. Dr. O'Kelley completed her predoctoral internship at the UAB Psychology Internship Training Consortium and was a postdoctoral fellow at UAB Civitan-Sparks Clinics. From 2006 to 2008, a portion of her postdoctoral fellowship included a position of Program Coordinator for the University of Alabama Autism Spectrum Disorders College Transition and Support program (UA-ACTS), a program she helped develop and implement.


Dr. O'Kelley's research interests include cognitive and behavioral phenotypes of individuals with ASD and related neurodevelopmental disabilities, screening and early identification, sibling and family functioning, group social skills interventions, and issues across the lifespan for individuals with ASD.


Dr. O'Kelley is a member of the International Society for Autism Research and American Psychological Association and is active in the Alabama Autism Providers Network and the Alabama Inter-agency Autism Coordinating Council.
Erech Brown
Erech Brown
 is the Founder and CEO of Erech Bro-Looza, Inc. a unique and creative design art e-commerce company.


Erech Bro-Looza was formed in 2018 but has been creating unique designs for over five years. Erech is an aspiring thriving artist, determined, hard-working, dependable, and has Autism. Erech creates his own creations whether it is making background characters using visual graphic designs or using other creativity as an inspiration.


Erech graduated from Helena High School and attended the University of Montevallo Falcon Flight Program. Erech believes in learning how to become independent and making new friends. Erech is active in his community. He served as a volunteer at Two By Two Rescue for four years.


Currently, Erech is a member of PIPA (Partners in Policy Making), YEL (Young Emerging Leaders), and People First of Shelby County. Regardless of what position or direction Erech undertakes, he always keeps a smile on his face and God in his heart.


Erech believes in the mottos: Dream big like you are surfing on an ocean wave! Do not give up your passion! Do not give up your dreams!


David Hyche
David P. Hyche
 is currently the Chief of Police for the Calera, Alabama Police Department. In May 2020, David retired from the ATF having served as Assistant Special Agent in Charge of the Nashville Field Division, Overseeing the Alabama offices of the Bureau of Alcohol, Tobacco, Firearms and Explosives (ATF) as well as the Crime gun Intelligence Unit in Nashville Tennessee. Hyche had been in this position since March 2015. Hyche supervised the five ATF offices in the state of Alabama and one in Tennessee. Prior to this post, Hyche served as Resident Agent in Charge of Birmingham Group III and the Huntsville, Alabama Satellite office. Hyche held this position for fifteen years. Hyche also served as ATF Program Manager at Bureau Headquarters for two years, managing the Bureau's Post Blast Training Programs and conducting explosive training around the U.S. and in 24 countries. Hyche was an ATF field agent in Atlanta for eight years and Birmingham for two prior to getting into management. Prior to ATF, Hyche worked as a Special Agent for the U.S. Department of Labor's Inspector General Office. Hyche is a 1986 graduate of the Alabama Law Enforcement Academy and worked for the University of Alabama Police Department for just under two years while in college.


Hyche has been a Certified Explosives Specialist for ATF for the past sixteen years and has held the position of Chapter Director for the International Association of Bomb Technicians and Investigators for the past twelve years.

Hyche holds a Bachelor's and a Master's degree in Criminal Justice from The University of Alabama.


Hyche and his wife adopted a child who suffered a brain bleed and lost her vision as an infant.  His Daughter Rachel is blind and is the motivation for the RACHEL project which facilitates the manufacture of audible Easter Eggs which are distributed around the country to allow accessible, enjoyable Easter egg hunts for blind children.  Hyche has been a board member for the Greystone YMCA, the AIDB Birmingham Regional Center advisory board and currently serves on the Alabama Department of Rehabilitation Services Blind Advisory Board.
My name is Lillian Grimes, and I currently support adults with disabilities by teaching them life skills and pre-vocational skills as well as engaging their creativity. I've worked with individuals living with disabilities for almost 8 years. I myself have been diagnosed with Social Communication Disorder (formerly called Aspergers Syndrome) as well as Tourette's Syndrome, and this helps me to make better informed decisions regarding the care of the people I serve.
Gage Tomerlin
My name is Gage Tomerlin I am 23 years old and was born in Decatur, Alabama. I graduated from East Limestone High School in 2019. I have been working at Publix since 2021. I was diagnosed with autism when I was 2 ½ years old at Vanderbilt University in 2001 and ADHD in 2022 and I have lived all my life in Athens, Alabama and I continue to live with my parents, Todd and Tammy. I am an aspiring writer and some of my other interests are history, animation, and geography.
Courtney Dempsey
Courtney Dempsey
 has been a certified police officer since 2009. She currently works as a Patrol Sergeant for a local agency within the Birmingham-Metropolitan area located in Alabama. From 2016 to 2021, she was an investigator under the Special Victims Unit where she worked cases involving domestic violence, crimes against children, elder abuse, and SORNA violations. She worked with several Women and Children's Advocacy Centers during her time in Investigations.


Courtney is a certified SSGT (Strategic Self-Defense & Gunfighting Tactics), LAP (Lethality Assessment Protocol) Instructor, and a former FTO (Field Training Officer). She also is certified as an ALEAPS Peer Support Member. Her special training qualifications consists of Joint Human Trafficking Task Force, FBI Instructor Development, Regional Child Trauma/Abuse/Neglect Multidisciplinary Team, LE Response to Victims of Domestic and Sexual Violence.  


Courtney earned her Bachelor's Degree in Social Science Secondary Education from the University of Montevallo with a Minor in Psychology and Sociology where she taught high school for three years before entering into Law Enforcement. She is currently working on obtaining her Master's Degree in Clinical Mental Health Counseling from Liberty University and plans to get her Doctorate in Traumatology. She is a member of the American Counseling Association and the Association for Child and Adolescent Counseling.
Vivian Spears
Vivian Spears
 served as parent consultant with Children's Rehabilitation Service for 22 years. CRS is a division of Alabama Department of Rehabilitation Services. Alabama's Title V Program serving children and youth with special health care needs from birth to 21.


Accepted in Pediatric Pulmonary Center (PPC) Leadership Training Program in the Department of Pediatrics, UAB School of Medicine in 2017-2018 as a Family Advocate Trainee through Alabama's Maternal Child Health (MCH) Leadership Network. Its mission is to develop leaders who will promote comprehensive, coordinated, family centered, and culturally sensitive systems of health care to improve the health of children and youth with respiratory conditions.


Mother of two adult children (Ayeshia and Aaron) and three grandchildren.
Ameet Bosmia, Ed.S, NCSP
Ameet Bosmia, Ed.S, NCSP, is a Nationally Certified School Psychologist working within Trussville City School where he is involved in the district-wide provision of social-emotional and behavioral interventions, mental health services, threat risk assessments, and suicide risk assessments for students Grades K-12.


Ameet Bosmia is involved in both research and university-based activities involving youth with Emotional Disabilities (ED), trauma informed practices, alterative school placement, suicide prevention, intervention, and postvention, Crisis Prevention Intervention (CPI) and de-escalation training, gang and community violence, professional development for school and community-based staff regarding behavior management, and the development of interconnected system framework for school-based mental health (SBMH). He provides district level consultation services for school systems needing assistance with the development of a multi-tiered systems of support (MTSS) framework and response to intervention (RTI) services for both academic and behavior intervention services.


Ameet Bosmia was born and raised in the Birmingham area and received his Bachelors of Science (B.S.) degree in Psychology at Birmingham-Southern College in Birmingham, AL. He completed his Education Specialist (Ed.S) degree in School Psychologist at the University of Washington in Seattle, Washington. Following the completion of his Ed.S degree, Ameet Bosmia served as a School Psychologist in Aiken, South Carolina before returning to his native Birmingham. He served as an administrator of special education services with Shelby County School for 3 years before returning back to his role as a School Psychologist with Birmingham City Schools. He is in the process of completing his Doctor of Education (Ed.D) degree in School Psychology at the Loyola University of Chicago.


Ameet Bosmia's research interests include youth suicide, structuring alternative school settings, and interconnected system framework for school-based mental health. Ameet also serves as the Government and Professional Relations – State Liaison Officer (GPR) for the Alabama Association of School Psychologists (AASP) and is a co-founder of the Joint Task Force for School Based Mental Health (JT-SBMH).


Ameet Bosmia is an active member of the National Association of School Psychologists, Alabama Association of School Psychologists, and Join Task Force for School Based Mental Health.
Chris Townsend
Chris Townsend is a retired police office. He worked for the Madison Police Department in Madison, Alabama as a Sergeant in the Special Operations Division.  Sergeant Townsend was the department's training coordinator and was a certified Taser, PPCT (Pressure Point and Control Tactics), and ALERRT AIR (Active Attack Integrated Response) Instructor. He was assigned to the School Resource Unit in the Special Operations Division from 2006 until 2013. He was assigned to Bob Jones High School as their SRO.  Chris was also the current Vice President for The Alabama Association of School Resource Officers (www.TAASRO.org). He was a "radKids" instructor since March 2012 and served as the Madison Police Department Honor Guard Coordinator. Sergeant Townsend also served a co-coordinator for the department's chaplain program.


Sergeant Chris Townsend received the Director's Award of Excellence in 2002 from the Northeast Alabama Police Academy while he was in attendance at Jacksonville State University.  He has also received the Officer of the Year Award from both the Madison Police Department in Madison, Alabama, in 2005 and the Optimist Club of Madison in Madison, Alabama, in 2010.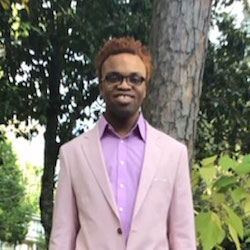 Aaron Henderson
Aaron Henderson has a dual diagnosis of autism, intellectual disability, asthma and other chronic medical conditions.


Aaron enjoys weekly exercise at the local gym, swimming and playing the violin. He attends the Community School of Music at University of Alabama. He graduated from Vocational Rehabilitation Services CONNECTIONS Program in 2017.


Other activities include volunteer work at the University Church of Christ—Harvest Hand Food & Community Outreach. Harvest Hand works with the local food bank to provide food to senior citizens, children with disabilities and adults who meet the guidelines of Alabama's Emergency Food Assistance Program. Aaron is very involved in the community.
Melanie Bald, MSW
Melanie is the Alabama Project Director and Director of Intensive Care Coordination for Benchmark Human Services, a nationwide agency that helps people live as independently as possible. In Alabama, Benchmark is dedicated to consulting with the Alabama Department of Mental Health and to providing services to individuals in the Autism program.


She has worked as the Clinical Director for Triumph Services, a Child Life Therapist at Children's Hospital and at United Ability in the Early Intervention program. 
Melanie graduated from Virginia Tech with a degree in Child Development and a minor in Psychology and  completed her Master's in Social Work with an emphasis on program management from the University of Alabama in December 2020. She will be eligible for her LICSW in 09/2023.
Taijoun Robinson
A.W 
A.W. was born in Central Florida, the daughter of a nurse and a lawyer. She was diagnosed with Autism at a young age. She attended Horizons School in Birmingham, AL in 2004 and is an active member of her synagogue.